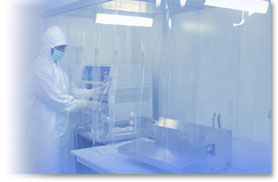 Our companies, created in 1967 are French and in family companies. They were created by Mr Aldo Levy and Mrs Cécile Levy.
We are specialized in the design, the manufacture and the trade of orthopaedic implants but also of various surgical materials. For better meeting the needs for our customers, we study any request concerning specific products.
Our development and research laboratory, created in 1987, as our manufacturing unit allow us to manufacture custom made devices and new products. This structure enables us to collaborate with the services of orthopaedic surgery of the hospitals and private clinics.
Médicalex – Francemed currently counts twenty people.
Surface: 1500 m² including 1000 m² of workshop.
Principal means of production
Médicalex – Francemed holds up to date the complete list of the means of production, tool and tools. This list is managed by a data base.
Data processing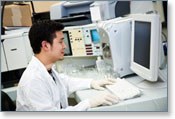 Médicalex – Francemed is equipped with average data processing powerful concerning hardware and software :

• in accountancy and management
• PAO: software of and page-setting image processing enable us to carry out the documentation of our products, their note of use as well as the communication by way of press.
• CAO: computation software of constraints by finite elements
• DAO: drafting package computer-assisted
Each service of the company is equipped with a computer connected to the internal network of the company and a printer.
Production
Workshop of machining:

– milling machine conventional, numerical and cycled,
– conventional and numerical turns,
– drilling machines
– turn with mobile headstock,
– machine to cut the nets
Workshop of plasturgie:

– presses of plastic injection
– presses to be moulded by compression
Workshop of welding:

– argon's solder
– silver's solder
– brazing
Workshop of cutting and cambering:

– presses
– shears
– press tool,
– sawing machine
Workshop of polishing and completion:

– bench of mechanical polishing
– barrel
– sand spreader
– electrolytic polishing
– passivation
– centrifugal machine for tribofinition
Workshop of cleaning :

– ultrasounds machine
– drier
Workshop of marking:

– electrolytic marking
Service Controls :

– three-dimensional numerical
– profile projector
– various materials of control adapted to each device
– tester of hardness
Service of conditioning:

– clean room
– equipment of cleaning and decontamination
– packing machine under blister under sachet pelable and vacuum
Documentation
Our company has a catalogue of the principal products accessible via Internet site. This catalogue is updated regularly. A documentation detailed in the form of booklets and/or of cassettes videos or CD ROMs also available for certain products.
Our company regularly organizes since 1989 of the scientific seminars of information PERFECTO (Protocol of Study of Rebuilding and Manufacture of the Components by Computer Treatment) There are the various topics which were approached until now:
There are the various topics which were approached until now: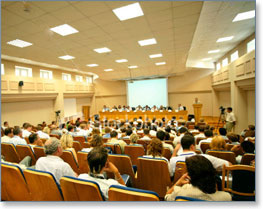 • first seminar: Modelings and designs of orthopedic implants
• second seminar: Biomechanics of the hip and the knee " engineering to surgery" »
• third seminar: Personalized prostheses of hip
• fourth seminar: The foot
• fifth seminar: The upper limb
• sixth seminar: Rachis and thorax
• seventh seminar: The cranial halation
• eighth seminar: Reconstruction Prostheses
• ninth seminar: Borrelly's staples
• tenth seminar: paediatric Orthopedy
Certificates Quality
Issued by the organization certifier S.G.S:
• January 1998: ISO 9002.
• April 1998: ISO 9001:1994:, EN 46001 and appendix II of directive 93/42/CEE relating to marking EC of the products.
• February 1999: ISO 13485:1996.
Février 1999: ISO 13485:1996
• June 2004: ISO 9001:2000 and ISO 13485:2003